Dr. N.H. JONES
September 1908 -August 1998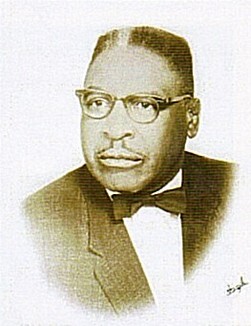 Dr. N. H. Jones
The Man........
Nathaniel Harmon Jones, one of seven children, was born September 16, 1908 in Oakland, Texas to the parentage of the late Sam and Bury Jones.
A fighter all of life, Dr. N.H. Jones often recalled his days as a professional heavyweight boxer. His 'ring' name was "Lobo", which means,"Wolf ."

The New Birth.......
He confessed a hope in Christ at an early age and was instrumental in leading his father to Christ. They were baptized together.

The Minister, A dedicated Servant of God, the Leader........
"The Spirit of the Lord God is upon me/because the Lord hath anointed me to preach the good tiding unto the meek...."
In 1934, he was called to the ministry and feeling the need to be thoroughly furnished in the Word, he went to graduate from Conroe Normal Industrial College and Union Baptist Theological Seminary. In 1972, he earned his Doctorate of Divinity degree from Liberty Bible College in Muskogee, Oklahoma. He also was a high school English instructor and taught a preparatory class for ministers in Texas. He had a great love for those who preached God's Word.
A builder by trade, he build his first church in Baytown, Texas on land that was leased for 100 years for $1.00. He left Texas and came to Oklahoma in 1948 where he pastored Mt. Zion Baptist Church in Snyder, Oklahoma. He pastored there for four months and was called to pastor St. Elmo Missionary Baptist Church here in Lawton.
A dedicated servant of theLord, he served as President of the Greater New Hope District Sunday School and B.T.U. Congress, Bible teacher for the Great New Hope District Association and parliamentarian, and his greatest achievement, the proud pastor of New Zion Missionary Baptist Church. He fed the hungry, clothed the naked, and give his life for people. He would often say ,"I will not rust out,I will work out."

Who Can Find A Virtuous Woman... For is cause shall a man leave his father and mother, and shall be joined unto his wife...
On June 1952,he united in Holy Matrimony to Lilie G. Jones. To this union many children were added. He had a deep love for all childred and they were the center of his life.

A Rare Breed of A Man for Justice and Equality......
"Stand fast therefore in the liberty wherewith Christ has made us free...." Galatiansn5:1
He was a trumpet for justice during the Civil Rights movement. His love for all people led him to walk the streets of Lawton in order to register people to vote. When the Lawton Public School was desegregate in 1954, he personally carried students to each school to help them enroll. He was not afraid. He too, like Dr. Martin Luther King , Jr., believed that all men are created equal, and he led the protest marches that opened doors to many Lawton's public facilities that were previously closed to blacks (i.e, Doe Doe Park).
A life commited to service and leadership; he received numerous awards and honors. He was a member of the mayoral committee on racial justice. The late Wayne Gilley, Mayor, City of Lawton issued an official proclamation which proclaimed October 31, 1980 to be "Rev. N.H. Jones Day":
Whereas, Rev. Jones has devoted his whole life ministering to the needs of people and has called attention to discrimination; and
Whereas, Rev. Jones has always been concerned about the least, the last, and the low; and
Whereas, Rev. Jones has served the whole community, not just his denomination; the whole city was his parish; and Rev. Jones can be compared to the prophet, Micah, in the Old Testament when it is said that Micah of old walked the streets and cried out, "Let the Lord God will witness to you...."
Dr. N.H. Jones also served on the board of the Great Plains Improvement Foundation, the Governor's Board of Chaplains, and The Group. A lifelong member of the NAACP and the past president, he was fondly referred to as "The Godfather" of the Lawton Branch of the NAACP. His most memorable quote was,"I was born Black American, I was educated in America, I was save in America, I love America, I shall be buried on American soil, and when Jesus comes, I shall arise to meet him in the air from America."

"Peace I leave with you, my peace I give unto you, not as the world giveth I unto you. For I am now absent from his body but present with my Lord."
Dr. N.H. Jones departed his life on Wednesday, August 12, 1998. He left this world peacefully for a better home over in the Glory Land.




---